---
Sri Lanka Telecom PLC (SLT), the leader in fixed line telephony, reported losses in the June quarter (2Q23) amid weak top line performance, as its mobile arm Mobitel recorded revenue de-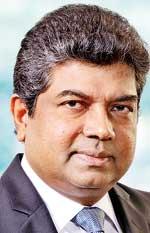 Janaka R. Abeysinghe
growth owing to significant decline in subscriber base.
For the quarter under review, the SLT group reported a net loss of Rs.1.17 per share or Rs.2.1 billion compared to earnings of Rs.1.09 per share or Rs.1.96 billion reported for the corresponding quarter last year.
The group revenue declined to Rs. 26.1 billion from Rs.26.9 billion.

"SLT PLC revenue growth was primarily hindered due to delay in monetisation of fibre network and customer churns. Revenue de-growth in Mobitel was due to significant decline in subscriber base," SLT said in a press release.
It also said Mobitel subscriber base contracted by 1 million from June 2022 to June 2023.
During the first half of 2023 (1H23) Mobitel revenue contracted by Rs. 2.2 billion compared to revenue for the same period in 2022 and the loss recorded for the period was Rs. 1.5 billion.
Mobitel recorded Rs.835 million operating loss due to lower revenue and higher operating costs, ending with a net loss of Rs.1.39 billion for the quarter.

SLT said with the recent changes in management, Mobitel has been able to arrest the decline in subscriber base and revenue.
For the first half of 2023 (1H23), SLT group reported a net loss of 64 cents a share or Rs.1.16 billion compared to earnings of Rs.2.56 per share or Rs.4.6 billion reported for the same period last year on a revenue of Rs.52.7 billion, down from Rs.52.9 billion a year ago.
Sharp rise in interest expenses also contributed negatively to the group's performance. For 2Q23, interest expenses rose to Rs.3.39 billion from Rs.782 million, while 1H23 interest expenses rose to Rs.5.6 billion from Rs.1.5 billion a year ago.

Despite the lower revenue and profits, the group operating expenditure rose by 15.1 percent year-on-year (YoY) to Rs.2.5 billion in 2Q23. Mobitel's operating expenses rose 30.4 percent YoY to Rs.1.99 billion in the quarter under review largely due to sales related commission.
SLT's operating expenses increased 5.5 percent to Rs.619 million owing to AMC/license cost driven by devaluation of the rupee, electricity tariff and fuel price increases.
"Prolonged recovery from the effects of the economic downturn, loss of Mobitel subscriber base, low productivity, and delay in monetisation of fibre network has had a significant impact on the revenue generation of the Group.
The government's macroeconomic adjustments will help the country's economic revival in the long term but may initially affect business growth and the disposable income levels of our customers," said SLT CEO Janaka R. Abeysinghe.
"Managing the escalating operational costs resulting from fluctuations in exchange rates and inflationary conditions etc. is a huge concern. In this context, pricing is key but setting the right price has become increasingly challenging. This situation will add pressure to our revenue generation and topline performance. Under these conditions, the Mobitel turnaround has become an immediate concern.

Bank lending rates remaining high in the recent past has caused margins to erode and made funding extremely difficult. However, with the positive changes adopted by Central Bank recently, we believe the lending rates will decline," he added.
SLT is among one the state-owned enterprises the government has identified for privatisation. SLT trade unions and certain other parties oppose its privatisation on the basis that the company is a profit-making entity.
Secretary to the Treasury has 49.50 percent of the issued shares of SLT while Global Telecommunications Holdings PLC has 44.98 percent as the second largest shareholder of SLT.