---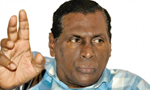 Sri Lanka Freedom Party (SLFP)'s committee working on the Central Bank bond issue, would consult legal and financial experts this week to decide on steps to be taken in this regard, a Minister said yesterday .
The Central Committee of the party appointed this committee on October 31 to study the report submitted by the Committee on Public Enterprises (COPE) on the controversial bond issue that took place on February 27, 2015.
It is expected to submit a report to President Maitripala Sirisena recommending steps to be taken regarding the issue.
Asked about the latest position, committee member Labour and Labour Relations Minister John Seneviratne told the Daily Mirror legal and financial experts would be consulted this week.
"We will have a series of discussions. We will meet hopefully this week again for consulting all the experts concerned," he said.
The Minister said the committee could not act upon merely what was in the COPE report only.
The COPE, chaired by JVP MP Sunil Handunnetti, submitted its report holding former Central Bank Governor Arjun Mahendran responsible for the bond sale.
The United National Party (UNP), as the main constituent of the government, said the report would be referred to the Attorney General for further of action.(Kelum Bandara)