---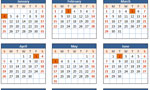 After years of civil conflict, Sri Lanka takes the needs of its multiethnic population very seriously, with a very pleasant side-effect: 25 national public holidays a year.
It's one of the highest national public holiday counts in Asia, far outstripping Singapore's 13 days, Japan's 17 days and even Indonesia and Thailand's relatively generous 19 and 20 days respectively. For Americans, who survive on a measly nine mandated days off a year, as well as Australians on just 10, 25 would be a dream.
Sri Lankans can thank their country's many recognized religions for the days-off bonanza.
Up to 70 percent of Sri Lankans are Buddhists, while the rest of the population identify as Hindu, Muslim, Catholic, Christian or "other," according to an official census in 2012. As a result, most public holidays are for Buddhist holiday days, but there are also holidays for important Hindu, Christian and Muslim religious events.
The full moon day of every lunar month is known in Sri Lanka as Poya day, a Buddhist day of observance. There are 12 Poya public holidays alone in 2016, which generally sees residents wind down and the sale of alcoholic beverages, meats and fish banned.
Lolitha Abesinghe, managing director of investment advisory firm Opportunity Sri Lanka, told CNBC that the high number of religious public holidays was a way to "extend the same level of respect to a cosmopolitan mix of population...to maintain the peace, harmony and coexistence in the country."
The war ate up more than $200 billion in government spending over the years, according to an estimate by the Asia Economic Institute, as well as damaging economic development - an effect from which Sri Lanka is still recovering.
And while the high number of national holidays are a sign of religious equality, some businesses complain that they're unfavorable for the economy.
People working on a public holiday are entitled to double the normal rate of wages, according to Sri Lanka's Shop and Office Employees Act.
"Business entities in Sri Lanka have worked around the higher number of holidays to continue generating a good level of productivity," Abesinghe said.
He added that the public holidays helped boost the revenue potential of hotels, shopping malls and other entertainment-related industries.
But Lahiru Pathmalal, chief executive of Takas, a Sri Lanka-based internet e-commerce startup, is less positive.
"Public holidays may lead to better off-time but in terms of productivity and consumer behaviours there's an impact," he said.
"I dread seeing public holidays turn into long weekends," said Pathmalal, adding that this often led to a fall in revenue for his company.
Pathmalal told CNBC that he believed Sri Lanka needed to cut down on its generous public holiday calendar, because the holidays, which were originally meant for religious purposes, were no long observed as such by most people.(CNBC)