---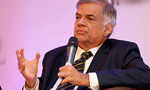 Sri Lanka's future economic growth is not a threat to the region as it is playing a sub role in Asia's development, Prime Minister Ranil Wickremesinghe said.
He said this at the 'World 2017' summit organized by the economist Magazine in Hong Kong on Thursday.
"Sri Lanka which is situated at a strategic location in the Indian Ocean needs the support of other countries in the region," the Prime Minister said adding that Sri Lanka could play a role in the region's development while developing itself.
He said Sri Lanka would develop and maintain bilateral relations with all countries in the region while opting for free trade agreements with several of them.
The Prime Minister was welcomed by the Economist Magazine's Executive Editor Daniel Franklin.