---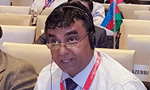 Though the country was now free of conventional terrorism, the Sri Lankan Government was very much aware of the threat of its citizens joining foreign terrorist organizations, Inspector General of Police Pujith Jayasundara said addressing the INTERPOL General Assembly in Bali, Indonesia yesterday.
The IGP said that involvement of Sri Lankans in foreign terrorist organizations was recently revealed following the killing of a Sri Lankan in Syria in 2015.
He said that Sri Lanka had suffered immensely from terrorism for well over three decades.
"It is with great pride that I mention that we have successfully rooted out terrorism in 2009. Now, Sri Lanka is going through post-conflict phase and is focused on reconciliation, rehabilitation and development of the conflict affected areas," he said.
IGP Jayasundara said that all communities should have a clear and common definition for terrorism.
"With decades of experience we in the Sri Lanka law enforcement know that combating terrorism is not an easy task," he added.
The IGP said that, in order to combat international terrorism, law enforcement agencies needed to work under different jurisdictions.
"This has to be addressed, so that cross-border cooperation of security agencies is facilitated," he said. (Darshana Sanjeewa)