---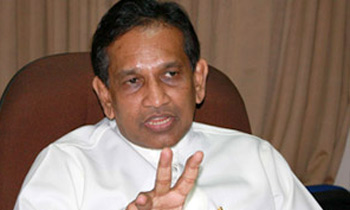 With reference to the controversy that has arisen over the proposal by President Maithripala Sirisena to assign Minister Sarath Fonseka to deal with emergency situations that may occur in the country, Health Minister Dr. Rajitha Senaratna said he takes full responsibility for the statement made by him.
He said it was he who was responsible for reporting what transpired at Cabinet meetings to the media as the Cabinet spokesperson. He said he had made the latest remarks with the blessings of the President and Prime Minister.
He was responding to Labour and Trade Union Relations Minister John Seneviratne who said the Cabinet Spokesman had made several irresponsible utterances in this regard.
Dr. Senaratne clarified his position at a media briefing after participating in a business conference conducted by Premier International at the Kingsbury Hotel in Colombo. He said, "No one in the Sri Lanka Freedom Party (SLFP) can lie about this manner. I talked about what was discussed by Cabinet. There were Cabinet Ministers present. If they have something to say they must have the backbone to do so. These things should have been discussed at the cabinet meeting. There is a clause in the Right to Information Bill to inform everything that happens in the Cabinet to the media "I state everything that happens there as the Cabinet Spokesman"
"Because of that, the government will not fall into an abyss, nor will the SLFP whose members have their legs on both sides of the divide. There are also those who are trying to join hands with former President Mahinda Rajapaksa, he said.