---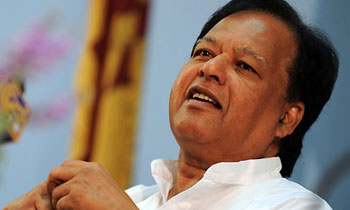 Establishing of the private medical university-SAITM –was a great effort done by the former President Mahinda Rajapaksa, Special Assignments Minister Dr. Sarath Amunugama said today.
Addressing media at the Sri Lanka Freedom Party (SLFP) weekly press briefing at the SLFP Headquarters, Dr. Amunugama said the SLFP should be thankful to Mr. Rajapaksa for introducing the private medical universities to the country and it was a wise move that he had ever taken.
"The protests against the SAITM are not a practical thing according to our view. If there are issues on standards we should hold discussions and solve the issues. The standards what they seeking from SITAM, should have applicable to our State universities as well.
The initial loan of Rs. 600 mn for SITAM was issued by a State bank. Therefore, it is not a good thing for protesting against issuing the birth certificate to the child because it was born during the previous regime," the Minister said.
"MRIA, Mattala Port and Highways were built to show his leadership and he didn't build them to operate in isolation but to help convert Hambantota region as an investment industrial zone.
"The purpose of those projects was to help our manufacturers export their finished products to international markets easily," he said.
"It is unfortunate to hear that Mr. Rajapaksa is now denying all the constructions he had done," he said.
"Not having the power doesn't mean that the country had fallen. MRIA, Mattala Port and Super Highways do not vaporize if Mr. Rajapaksa is not in power. All those projects and constructions can be used by any one and credit goes to him," he said. (Chaturanga Pradeep)