---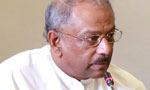 While denouncing the Government's move to assign Police personnel for former President Mahinda Rajapaksa's security detail, the Joint Opposition requested both the President and the Prime Minister, to call off the move.
Joint Opposition Leader MP Dinesh Gunawardena said unlike other past leaders Rajapaksa should be entitled to VVIP security, since it was he who defeated the LTTE.
"The remaining LTTE elements are waiting for an opportunity to harm Mr. Rajapaksa. Now, that the highly trained security personnel are no longer with him, his life is in danger. We have already requested the President, and the Premier in writing in this regard. Unfair avenging should come to an end," he told a news conference today.
Meanwhile, MP Prasanna Ranatunga requested the Government to reconsider the decision due to current security situation in the country.
"Former President needs skilled personnel to protect him from LTTE elements. Defence Ministry Secretary said there had been 300 incidents of recovery of explosives and other such incidents in the North and East so far. Northern Province calls for federalism, while Tamil Nadu calls for Eelam in here. Therefore, we request that the decision be reconsidered," he said. (Lahiru Pothmulla)
Video by Rishan