---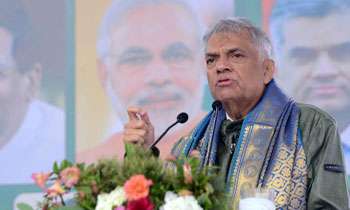 Reconciliation was build up gradually in Sri Lanka with the movement of Southern people to the North and Northern people to the South, Prime Minister Ranil Wickremesinghe said today.
Prime Minister Wickremesinghe expressed this sentiment during the opening of Mahatma Gandhi Puram housing scheme in Nuwara Eliya this afternoon.
"Many Sinhalese from the South are increasingly visiting the North, especially the Nagadeepa Vihara and Naga Vihara, while many from the North are visiting the South particularly to see what Colombo looks like," he said.
"These visits are gradually becoming a mode of reconciliation. Northern and Southern people are more reconciled today than in the past," the Prime Minister said.
He said programmes such as the Indian funded Suwaseriya paramedical care ambulance service and the Mahatma Gandhi Puram housing scheme would bring about equality to all communities in Sri Lanka.
"We launched the Suwaseriya Ambulance service all over the country, while the Mahatma Gandhi Housing Scheme, opened today in Nuwara Eliya, had brought equality to all people in the estate sector.
"People in the plantation sector did not have villages and a house of their own like other people elsewhere," he said.
"However, they have begun to get their own villages and houses today. They did not demand a separate state like some in the North, who were provoked by the LTTE.
"Estate sector Tamils only wanted citizenship and a land of their own. The late President J. R. Jayewardene granted citizenship to estate Tamils. We have given them the land of their own today.
"However, we cannot stop at that. Therefore, the Government has decided to introduce Advanced Level science streams to schools in the plantation sector and had also planned to take over the dispensaries and hospitals in the plantations in order to upgrade them," the Prime Minister added.
Also, he said Enterprise Sri Lanka and Gam Peraliya programmes would also be launched in the estate sector soon.
Prime Minister then focussed on media.
"There are several TV cameras here today. All of them except for two channels are going to criticise me," he said.
Mr Wickremesinghe said the present Government faced stiff criticism and even lost a Local Government election as a result of the tax hike.
He said taxes had to be increased to resolve the debt service issue. He said the Government had managed to get on with development work while resolving the debt service issue.
Indian Prime Minister Narendra Modi in his speech said India would always like to see a peaceful and prosperous Sri Lanka.
"This housing scheme, funded by India will take the Indo-Lanka friendship to new stride. India has provided a grant of $350 million for housing development in Sri Lanka. This is the largest grant India had given to any country," he said.
Also, he said Tamils in Sri Lanka could use Air India direct flights to Varanasi to come and worship Lord Siva in India.
Prime Minister Modi expressed these sentiments during his pre-recorded speech. (Yohan Perera reporting from Nuwara Eliya)