---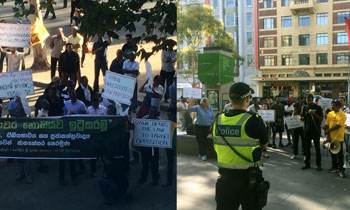 A group of Sri Lankans belonging to the Sinhalese and Tamil Diaspora in Australia yesterday staged a protest in Melbourne calling for the revoking of the honorary doctorate conferred on Prime Minister Ranil Wickremesinghe by an Australian university earlier in the week.
Those belonging to the Tamil Diaspora had protested by displaying LTTE flags while the Sinhala Diaspora for their part had carried the country's national flag, according to eye witnesses. The protest was held at the time Mr. Wickremesinghe was visiting Deakin University to deliver a lecture.
Eyewitnesses said the Prime Minister had delivered his lecture in spite of the protest and left.