---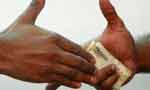 The Principal of the Sanghabodhi Vidyalaya in Nittambuwa has been arrested by the officials of the Bribery Commission, while accepting a bribe of Rs. 50,000 today.
Bribery Commission Director (Investigations) SSP Priyantha Chandrasiri said the said Principal was arrested at his school office.
He said the bribery officers arrested him for soliciting bribe to admit a child to Grade 6 class of the school.
SSP Chandrasiri said the Principal would be produced at the Attanagalle Magistrate today. (Darshana Sanjeewa)