---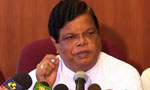 Displaying a kilogram packet of sugar at a news conference, UPFA member Bandula Gunawardane said today the prices of consumer items had not come down despite the controlled prices introduced by the government.
He said the price of a kilo of sugar was still Rs.100 though the government had fixed the price at Rs.95.
"The government took an arbitrary decision to control the prices of 15 consumer goods to avoid the consequences of the VAT increase. But prices of goods had not come down yet," Mr. Gunawardena said.
He held the Prime Minister, Finance Minister and Trade Minister responsible for making the arbitrary decision though they had no authority to do so. He said it was the Consumer Affairs Authority (CAA) which had the authority to fix the retail prices.
"Ministers act on their own. There is no proper management. For the first time since the July 1983 riots, shops were closed in Pettah in protest over tax increases,"Mr. Gunawardena said.
He said the Government should reduce the taxes, stabilize the Sri Lankan rupee against the US dollar and reduce the budget deficit as measures to resolve the 'financial confusion.'
Meanwhile, former MP G.L. Peiris said they were against the amendments to the VAT Bill and urged the government to withdraw the amendments. (Lahiru Pothmulla)