---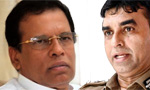 President Maithripala Sirisena told Parliament today that he had called for an explanation from IGP Pujith Jayasundara regarding a video in which he had been reportedly speaking with reference to an arrest by the FCID while answering a phone call.
President Sirisena was responding to Joint opposition MP Wimalaweera Dissanayake who raised a question on the issue this afternoon.
IGP Jayasundara answering a call allegedly said he had informed the FCID not to arrest anyone without his permission, according to the video.
"What was said by the IGP was wrong and I have called for an explanation on this matter from him," the President said.(Yohan Perera)