---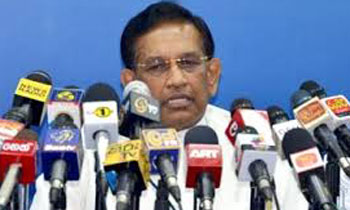 Cabinet Spokesman Minister Rajitha Senaratne said today the President Maithripala Sirisena requested Minister Field Marshal Sarath Fonseka to quit the ministerial portfolio and take up the post of army commander or overall commander for two years to discipline the country.
He told the weekly Cabinet briefing that Field Marshal Fonseka was known as a well-disciplined character in the country and that he would expedite investigations over several issues as well.
Minister Senaratne said the Field Marshal had agreed to quit his ministerial portfolio and take up the post if he was given proper powers and responsibility.
The question and answer session between the media and Minister Senaratne is as follows:
Q. What was offered to him, the post of Army commander or Overall commander?
A. Either of them.
Q. What was his reaction to the request?
A. He told that he was prepared to accept the post if proper responsibility and powers were given to him.
Q. Did he say that he was prepared to quit the Ministerial portfolio and take up the new post?
A. Yes, that is how decisions are taken on behalf of the country.
Q. What is expected from the Field Marshal?
A. He will do it well. Security forces asked us what was this joke happening in the country. They questioned if investors and tourists would come here if this situation went on. They said "Give us more powers. We will take care of Colombo".
Q. Is it reasonable to give powers to a single person, may be a minister or an official to do this?
A. He will report his decisions to the Cabinet and the Cabinet will implement them.
Q. Is the government trying to create a character like Gotabaya Rajapaksa?
A. No, no, Fonseka is not a brother of the President. He cannot act as Gota did. Mahinda Rajapaksa was afraid of Gota.
Q. Do you accept that the civil administration had collapsed under this government?
A. Yes, people say so. They ask us to take action immediately when we went to our villages.
Q. This government was brought to power to ensure the right to protest.
A. Trade Unions have right to do so. The question is staging protests for political agendas.
(Ajith Siriwardana)