---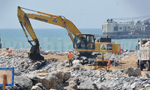 Work on the Colombo Port City Project will begin in May this year, State Minister of National Policies and Economic Affairs Niroshan Perera said.
The Minister said that all agreements had been finalized. "Prime Minister Ranil Wickremesinghe who handles the subject of National Polices and Economic Affairs had finalized all agreements during his recent State visit to China and therefore it would be possible to begin the project in May this year. All efforts are being made to commence work on the project next month," he said.
He further said that the earlier arrangement to give a portion of reclaimed land from the sea is being changed according to the new agreement and it would now be given on a 99-year lease.
He also said, foreign investors from outside China will be invited to invest in the project which would be connected to the Sri Lankan economy and be part of the Megapolis Development. (Yohan Perera)