---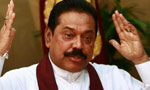 Former President Mahinda Rajapaksa said today that people should rise up as one against the impending tax increases because the yahapalana Government was trying to find the money for their political survival through increased taxes on the very people they deceived in order to win power.
Mr. Rajapaksa said the Government was going to increase taxes because there was no money to continue implementing the reckless pledges they made to the voting public to win power.
"They actually expected vast amounts of Western aid to flow in to sustain their Government. But no country gives aid to fulfill election pledges," he said in a statement.
Full Statement