---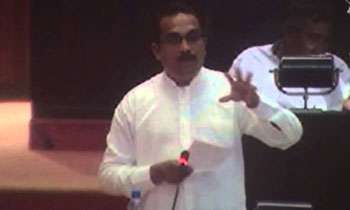 Prime Minister Ranil Wickremesinghe had not only protected fraudsters but also obstructed investigations on the Central Bank Bond scam, JVP MP Bimal Ratnayake said today.
He said the UNP COPE members had also obstructed the investigations of the COPE into the bond scam.
He told Parliament that the Prime Minister deserved a No-Confidence Motion as he had acted against the mandate.
"The motion against the Premier was justifiable as he had betrayed his mandate. The Government promised to put an end to corrupt Rajapaksa regime but it acted to protect the fraudsters. This Government was brought into power not only by the vote of the UNPers but also by the civil society groups, JVP and professionals who played a key role. We will vote in favour of the motion, whatever the motives of the factions that brought it may be," he said. (Ajith Siriwardana and Yohan Perera)