---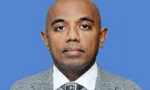 The Financial Crimes Investigation Division (FCID) has informed the Megapolis and Western Development Ministry that the Ministry's former consultant Vidya Amarapala had no involvement in any financial fraud though his name was mentioned in the controversial Panama papers.
Issuing a statement, the Ministry yesterday said the FCID had launched a probe into the allegations levelled against Mr. Amarapala, on a request made by the private secretary to Minister Patali Champika Ranawaka.
"The Minister was very attentive when Mr. Amarapala's name was mentioned in the Panama Papers. Mr. Amarapala resigned from his ministerial portfolios in April to pave the way for investigations. The FCID, which carried out a probe on a request by the secretary, informed the ministry that there was no evidence to prove Mr. Amarapala's involvement in any financial fraud," the ministry said.
It said the ministry too launched an investigation which was headed by one of the former ministry secretaries and it had also said that the charges against Mr. Amarapala were baseless.
The Ministry probe had said, quoting the International Consortium of Investigative Journalists (ICIJ) which released the Panama papers, that only because a name was mentioned in Panama papers it doesn't necessarily mean that they have committed financial frauds.
The Ministry clarified that the name list of Sri Lankans in Panama papers was a list of names of Sri Lankans who had been operating companies and maintaining accounts in Singapore. Mr. Amarapala had served as an executive officer of the IWS Holdings owned by Arthur Senanayake and as a Director of the Singapore based Sovereign Capital Corporation belonging to the IWS holdings.
"The accounts belonged to the period when he was working in IWS holdings and Sovereign Capital Corporation. There is no report to suggest the Company had been involved in any financial fraud during that time. The Company had made investments through the Board of Investment of Sri Lanka," the ministry said.(Lahiru Pothmulla)