---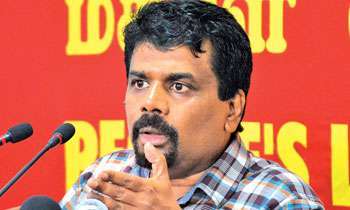 The Janatha Vimukthi Peramuna (JVP) said yesterday the no-confidence motion brought by them against Prime Minister Mahinda Rajapaksa and the government was passed with 122 MPs voting in favour.
It said that this was the second day on which the no-confidence motion was put to the vote and passed and as such the responsibility of the President to act according to the Constitution.
JVP leader Anura Kumara Dissanayake told a news conference held at the parliamentary complex that Standing Orders were suspended following a motion submitted by TNA MP M.A. Sumanthiran and the no-confidence motion was thereafter presented by him.
"The motion was passed in a proper manner according to Standing Orders. There is no way that the President can reject it or ignore it," he said and added that a small group of frustrated MPs without the majority in parliament were disrupting the activities of Parliament.
"Maithripala Sirisena's and Mahinda Rajapaksa's mobs prevented the Speaker from conducting the parliamentary session. He should come to the House at least to adjourn the House," Mr. Dissanayake said.
He said the Rajapaksa faction resorted to creating chaos in the House to prevent the no-confidence motion against them being passed in the House.
"The police should take action against the MPs who had allegedly brought knives into the Chamber. The Speaker cannot do that. He told us at the party leaders meeting that he had complained to the police. These MPs should not protest in the House urging the arrest of the MPs but they should do it opposite the President's House because the Police Department is under him," Mr. Dissanayake said. (Ajith Siriwardana and Yohan Perera)
Video by Damith