---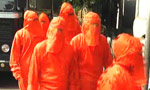 The Prisons Department has introduced a dress code for suspects when being transported to courts and back for identification parades in a move to protect their privacy and identity from the public, Prisons Commissioner Thushara Upuldeniya said today.
Accordingly, the prisoners will be wearing orange coloured dress covering the face and the body up to the toes when they are brought to courts for identification parades.
Mr. Upuldeniya said the dresses have been turned out by inmates tailoring department of the Mahara Prisons.
"The dress code was introduced on the instructions of the Prisons Commissioner General and was implemented from November 1. The dress was planned after studying models used by other countries," he said.
The dresses were distributed to remand prisons countrywide.
Video by Sanath Desmond and Courts Prasanna