---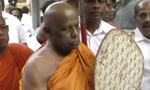 Mahanayake of the Asgiriya Chapter Ven. Warakagoda Gnanarathana Thera, said he would uphold the dignity of the post and perform his duties, leaving no room for any allegations against him or the Mahasangha.
Delivering an anusasana after his appointment to the post at the Maha Vihara Mangala Conference Hall the Thera said, he considered it his duty to uphold the traditions protected by his predecessors during the 700-year history of the Asgiriya Chapter. The Thera also said that the activities of the Mahanayake was a focus of attention of people all over the world.
"I would depend on the advice of the Sangha Sabha when taking decisions and consider it my duty to protect the Buddha Sasana and the Mahasangha. Former Mahanayakes of the Asgiriya Chapter Ven.Palipane Chandananda, Ven. Udugama Buddharakkitha and Ven Galagama Attadassi Theras have provided me guidance. My predecessors have rendered a dedicated service to the nation and the Buddha Sasana," the Thera said.
Anunayake of the Asgiriya Chapter Ven. Wendaruwe Upali Thera presented the Vijinipatha, the ornamental fan, while Diyawadana Nilame Pradeep Dela Bandara and Basnayake Nilames of the four Devalas made other offerings. (Nadeeka Daya Bandara and L.B. Senaratne)