---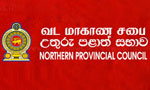 Apart from the Federal structure and the re-merger of the northern and eastern provinces, the Northern Provincial Council (NPC) has proposed a separate administrative unit called 'Upcountry Regional Council' for Tamils living in the central part of the country, it is learnt.
The NPC, controlled by the Tamil National Alliance (TNA), unanimously adopted this resolution calling for the implementation of political proposals.
NPC member M.K. Sivajilingam told the Daily Mirror that it had been proposed to set up the North-East State.
He said a separate autonomous region had been proposed within the proposed State for Muslims living there.
"We will unveil the proposals to the public on Saturday. We have sought power sharing based on Federal structures prevailing elsewhere in the world. We have not asked anything more other than that," he said.
Meanwhile, Eelam People's Democratic Party (EPDP) also endorsed these proposals in the NPC.
Only the two Sinhalese members, representing the United People's Freedom Alliance (UPFA), were opposed to the resolution. (Kelum Bandara)