---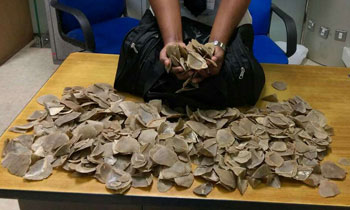 A Sri Lankan woman was arrested with 11 kilograms of pangolin scales by the airport customs officers last night while she was trying to smuggle them to Chennai.
Bandaranaike International Airport (BIA) Deputy Director Parakrama Basnayake said this was the largest stock of pangolin scales ever detected in Sri Lanka.
He said the suspect was a resident of Colombo.
Pangolin animals are internationally listed as endangered species and are on the red data list, Mr. Basnayake said.
He said the World Pangolin Day falls today. (Chaturanga Pradeep)