---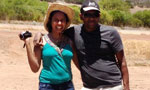 A renowned doctor had allegedly 'bludgeoned her abusive husband to death in Australia with a hammer in bed, because she was worried people would find out they were both having sex with a teenage girl.
The lady doctor accused of bashing her husband to death with a 1.79 kg hammer in the couple's bed feared people would find out about their sexual relationship with a teenager, an Australian court heard.
The dead man was found by Police in the foetal position in the lounge room of her home in Geraldton, north of Perth in Western Australia, in June 2014.
The lady doctor allegedly had blood splattered on her clothes and claimed to have no memory of the event, the West Australian reported.
The body of her husband was found in their bed with a pillow on his head.
Prosecutor Nick Cogin told Court on Monday the doctor and his wife started a sexual relationship with a 17-year-old girl and that the lady had become worried about her career.
"It got to a stage that she was no longer prepared to put up with his behaviour," Mr. Cogin said.
During an interview with Police, the lady doctor had claimed her husband was 'controlling' and 'physically violent'.
Defence lawyer George Giudice said she was a 'battered woman' and was frequently made to model in front of a camera to please him, according to The West Australian.
The Court heard the 10-minute emergency phone call the accused had made to triple-zero.
She repeatedly said she 'did not know what had happened,' and was barely audibly above her sobbing, the ABC reported.
In his opening remarks, Mr. Cogin said she had not suffered any injuries on the night her husband was killed, suggesting he had not been violent towards her.
She also apologised to her brother-in-law and paramedics, who arrived at the scene following her husband death.
"Why would you apologise if you didn't do it?" Mr. Cogin said.
"Her actions constituted the offence of murder. Nothing justified what she did," he said.
The trial in the Supreme Court continues.