---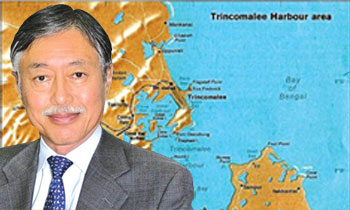 Japan has initiated talks with Sri Lanka and India on the development of the strategically-located Trincomalee Port, Ambassador Kenichi Suganuma said.
He told a group of journalists that Trincomalee was an important, strategically located deep sea port and had a lot of potential for development.
The Ambassador said Japan had agreed to supply navigation buoys with electronically communicable devises for the facilitation of naval movements in the harbour in the night. "We have begun discussions with India on how best to develop the port in the future. There are no concrete plans yet," he said.
The Ambassador said trilateral discussions were being held among Sri Lanka, Japan and India for the generation of energy using environmentally-friendly Liquefied Natural Gas (LNG).
"Sri Lanka's demand for power is on the rise. We have started talks with India for trilateral cooperation," he said.
Commenting on Japanese-funded projects in Sri Lanka, he said his country's investment amounted to Rs.1.8 trillion.
"The overall assessment is that these projects are good. They contributed to the development of the country. We have a system of evaluating the results by a third-party committee. The recommendations are favourable. I am very glad that wherever I go and speak to people, they sound happy. We have many other projects such as cultural exchanges. These are also well received by the Sri Lankan people," the Ambassador said.
He said his country needed to be selective and focus on certain areas as it could not do everything.
"In the case of Sri Lanka, we have three sectors. One is high quality infrastructure to boost Sri Lanka's growth, particularly in the area of exports. Secondly, the reduction of income disparities is there, particularly in regard to the vulnerable segments of society. We have to remedy this. Then, the reduction of social vulnerabilities such as floods and landslides are there. This is about official development. We also promote Japanese private investment," the Ambassador said. (Kelum Bandara)