---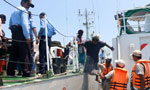 Sri Lanka Navy today assisted the repatriation of 96 Indian fishermen, released from Sri Lankan custody.
The arrested Indian fishermen were handed over to the Indian Coast Guard Ships 'Rani Durgavathi' and 'Abheek' at the International Maritime Boundary Line (IMBL) off Kankasanturei.
In a similar vein, 9 Sri Lanka fishermen held in Indian custody were also handed over to the Sri Lanka Navy at the same location.