---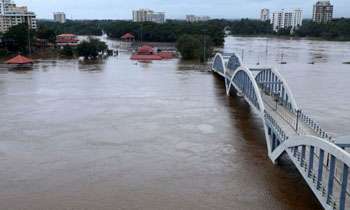 More than 100 people are thought to have died in devastating monsoon floods in India's southern state of Kerala, the worst in almost a century.
Rescuers battled torrential rains to save residents, with nearly 150,000 reportedly left homeless.
The state government said many of those who died were crushed under debris caused by landslides.
With more rains predicted and a red alert in place, the main airport has reportedly been shut until 26 August.
A state official told AFP that 106 people had now died, while the Economic Times in India reports 114 have been killed.
Hundreds of troops have been deployed to rescue those caught up in the flooding, alongside helicopters and lifeboats.
The government has urged people not to ignore evacuation orders. It is distributing food to tens of thousands who have fled to higher ground.
"We're witnessing something that has never happened before in the history of Kerala," Chief Minister Pinarayi Vijayan told reporters.
"Almost all dams are now opened. Most of our water treatment plants are submerged. Motors are damaged."
He added that the failure of the state government of neighbouring Tamil Nadu to release water from a dam had made the situation worse.
Kerala has 41 rivers flowing into the Arabian Sea.
Parts of Kerala's commercial capital, Kochi, are also underwater, snaring up roads and railways across the state - a popular tourist destination.
India's Prime Minister and Home Minister have both offered federal support.
Schools in all 14 districts of Kerala have been closed down and some districts have banned tourists citing safety concerns. (BBC)