---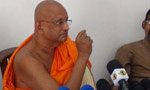 A holiday resort would be built in a private land near the Sri Pada sacred area but not within its precincts, officials and Buddhist clergy yesterday confirmed.
Speaking to the media, Secretary of the Ambagamuwa Pradeshiya Sabha and Chief Incumbent of the Sri Padastana and Pelmadulla Rajamaha Vihara said permission had been granted to a private company to build a holiday resort on a private land below the Sri Padastana sacred area.
The resort would be built near the Maray waterfall above the Maussakele reservoir. However this did not come within the Sri Pada sacred area precincts, the Thera said.
These comments were made during a meeting attended by government and private sector officials to discuss this year's Sri Pada Season. The Chief Secretary of the Central Province M.S. Premawansa and Nuwara Eliya Government Agent Helen Meegasmulla were also present.
Ven. Bengamuwe Dhammadinna Thera added that a private company was building a tourist resort in a private land below the sacred area with permission from relevant authorities, and he was in no position to object to it.
This Sri Pada Season would commence on Unduwap Poya on December 13. The use of polythene and the sale of CDs would be banned in the sacred area from Nallathanniya to Sri Padastana. (Ranjith Rajapakse)