---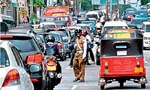 Heavy traffic congestion was reported in and around Borella due to a protest march carried out by the Inter-University Students Federation (IUSF) against the privatization of education.
Police said the protest march was passing the Cotta Road at the moment.
IUSF Convener Lahiru Weerasekara said the protest march was scheduled to proceed to the parliament.
Police today requested the court to prevent the protest march but the court refused to do so and informed the police to take necessary action on powers vested in the Police Ordinance if the protestors disturbed the public.
Meanwhile, police asked motorists using the Road from Rajagiriya to Battramulla on the Parliament Road to use alternative roads due to heavy traffic congestion.