---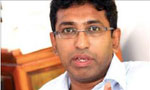 Though the 4 per cent increase in VAT has been severely criticised, the main object of the government's tax system was to increase direct taxes and reduce indirect taxes, Foreign Affairs Deputy Minister Harsha De Silva said today.
He said it was not the government's policy to continue with tax increases for longer than necessary.
Dr. De Silva said direct taxation amounted to 20 per cent and indirect taxation to 80 per cent and the government was planning to increase direct taxation up to 40 per cent by reducing the latter to 60 per cent.
"The government admits that the VAT increase has affected the people. Before the increase, the government reduced the price of essential items and salaries were increased," the minister said.
Meanwhile, he said the previous government had failed to prevent the country from being affected by the influence of the international community.
"If the country is not protected from the adverse pressure by the international community, the people would have been subjected to economic sanctions and even starvation without food and medicine. The present government was able to rescue the country on the nick of time and restore the status quo with the international community through negotiations," Dr. de Silva said. (Chaturanga Pradeep)