---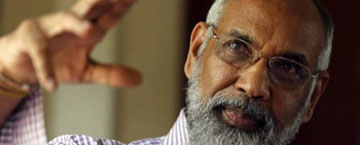 The international community needed to intervene in the incidents taking place in the Northern Province as the government was no longer in control, Northern Province Chief Minister C.V. Wigneswaran said.
Speaking to the United Kingdom's Minister of State for the Commonwealth and the UN at the Foreign & Commonwealth Office Baroness Anelay yesterday, the Chief Minister said the citizens in the province could not accept the solutions provided by the government.
Highlighting the need for an international investigation in to war crimes, Wigneswaran said they could not accept a domestic mechanism. It was essential that an investigation be conducted internationally with the participation of international judges, he said.
Meanwhile, the Baroness said she would discuss the requests made by the Chief Minister with high ranking government officials. (Romesh Madushanka)