---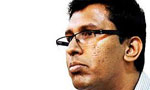 While rejecting the allegations that Jathika Hela Urumaya (JHU) was behind the arrest of UPFA MP Udaya Gammanpila, JHU national organizer Nishantha Sri Warnasinghe said today such allegations were being made to suppress the financial crime allegations levelled against Mr. Gammanpila.
Mr. Warnasinghe said there was no politics involved in his (Gammanpila's) arrest and added that he was arrested following a complaint made by his business partners in connection with the financial crimes allegedly committed by him.
He said they, as a party, were ashamed and regretted to have been deceived by Mr. Gammanpila, who deceived his own friends.
"Mr. Gammanpila's friends had told us that he was a bankrupted businessman when he joined Sihala Urumaya in 2000 but we did not know that he was someone who committed financial frauds like this.
His friends say that this is not the first time he was in prison but he had been in prison for several occasions in the past for similar charges," Mr. Warnasinghe said.
He said certain people including Joint Opposition MPs were trying to show that there were political matters behind Mr. Gammanpila's arrest and that it was a political witch-hunt in a move to prevent the legal process against him and added that legal action should be instituted against anyone irrespective of him being a local or international fraudster, if he had committed any crime, fraud or cheating.
"He has been arrested after a complaint made by his business partners against him over a financial crime committed by him 19 years ago. Sydney Jayasinghe has also been arrested over the same issue but no one talks about his arrest," he said. (Ajith Siriwardana)
Video by Rishan