---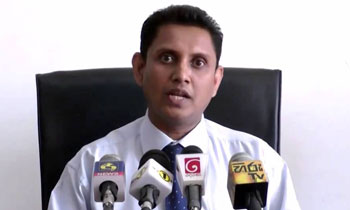 If the Presidential Committee, chaired by Deputy Minister of National Policies and Economic Affairs Dr. Harsha de Silva, decides to turn SAITM into a non-profitable entity via SLIIT or any other institution without completely nationalising it, the Government Medical Officers' Association (GMOA) will reconsider its participation to the committee, GMOA Secretary Dr. Haritha Aluthge said.
Addressing a recent press conference, Dr. Aluthge said the association took part in two committee meetings upon invitation and that Dr. Silva was making several attempts to resolve the matter.
"All participants were requested by Chairman Dr. Silva not to inform the press about the 'sensitive talks' as they would influence the decisions taken by the committee. Therefore, the GMOA did not expose what were discussed. We waited and watched the situation on two occasions but could not bear any longer. Therefore, we forwarded our observations to Dr. Silva. The committee was appointed to look into what has to be done to make the October 29 government stance a reality," he said.
Meanwhile, GMOA Assistant Secretary Dr. Naveen De Zoysa said the Deputy Minister was trapped in a snare and in search of a solution to the matter.
"My new committee is only to implement the president's recommendations. That's all what I have to say." Dr. Harsha de Silva responded. (Thilanka Kanakarathna)
Video by Sanjeewa