---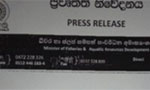 Ministry of Fisheries Aquatic Resources Development has rejected media reports that the ban imposed by the European Union on Sri Lanka's fish exports will be lifted on April 21.
Issuing a statement, the ministry's media spokesman D Wanninayake said that the discussion between the government officials and the European Union on lifting the ban is scheduled for April 21 and a decision will be taken at the meeting.
However in the first press release the ministry requested the journalists for a press conference to reveal the lifting of the ban.