---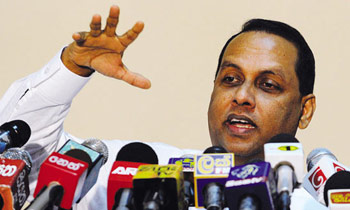 UPFA General Secretary Minister Mahinda Amaraweera said yesterday (26) the first election to be held this year would be the local government election and dismissed claims that there had been discussions within the SLFP about a referendum being held instead.
This was revealed by the minister at a media briefing held yesterday (26) at the SLFP headquarters building located in Colombo 10.
We definitely intend holding the local government election soon and this was stressed when Cabinet met on Monday (25).
The disaster that occurred in Meethotamulla was a good wake-up call to the authorities and this has highlighted the need for public representatives to be ready to step in and work on behalf of the people at a time of crisis. Therefore we are ready to face a local government election soon and we, as the SLFP, would not want it to be postponed under any circumstances. So, we unequivocally state that we have not discussed or thought of holding a referendum or any other election other than a LG Poll, he said, adding that they had waited 1-1/2 years for the government to make the necessary changes to hold the local government elections under the new electoral system that had been introduced. (Ariyarathna Ranabahu)