---
Says 'Dinesh was the heart and soul of our family, and we are lost without him'
Appeals to public not to indulge in speculative untruths
Senior and highly respected business leader Chandra Schaffter yesterday spoke his heart out about his youngest son Dinesh and his untimely death on 15 December. Here is the full text of Chandra's statement first since the death of Dinesh, a young investor, entrepreneur and philanthropist, exclusively in the Daily FT.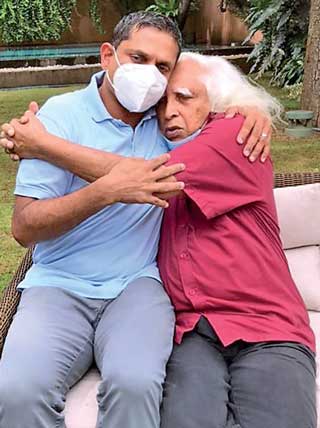 I have been asked by several of my friends, acquaintances and even many people who do not know me, of the circumstances in which my youngest son, Dinesh, met his death and the reason for his brutal murder.
On the day of his death, 15 December 2022, I visited Dinesh to say goodbye as he was packed and ready to leave at 4.00 p.m. for the UK with his family. He was going to the UK to admit his children in school there.
This visit was not a holiday but a visit to process residence permits in the UK for his family, based on his residence permit.
On that day, he was in good spirits. Dinesh and his wife sat with me at his verandah for almost an hour laughing and joking as we usually do when we are together, until I left his home around noon. He had mentioned to me that he had to go out for a quick meeting, and sounded his normal casual self when he said it. I didn't sense any sign of apprehension or nervousness.
Based on my interaction with him that day, I am certain that Dinesh was not anticipating any danger. So, what followed was a complete shock to all of us. I know he did not have an inkling of the dastardly plot that resulted in his death.
Dinesh, for those who do not know him, was a very gentle and kind human being. He was devoted to his family and friends and above all, valued relationships. For years, in quiet consideration, he took it upon himself to ensure that every member of our family was not only well but also happy.
He had the rare ability to be able to detect when this was not the case, and would do anything in his power to help when he could. He always made time for others despite his commitments.
Dinesh was an exceptionally loving husband and father, whose life and schedule revolved entirely around his family. He was very expressive and showered his children, nieces and nephews with endless love and affection. He consciously ensured our family spent time together, and never failed to mark special occasions by single-handedly organising family gatherings. Dinesh was the heart and soul of our family, and we are lost without him.
He was very trusting as he was trustworthy. He was known for random acts of kindness even to strangers. He would carry umbrellas in his car to give out to strangers in the rain. During the Aragalaya, without hesitation he opened the gates of his Colombo 7 home to provide refuge to around 200 protestors desperate to escape the tear gas.
One of his last text messages sent to his associate on the morning of his death read "the people who work at the Sri Lanka Tennis Association (SLTA) live in shabby property at one corner of it. I would like to look at what we can do to bring it up to a reasonable standard."
He was a supporter of many worthy causes including a Legal Aid practice to provide services to those who could not afford to hire a lawyer to defend them in court. He was also known to pay the fines of prisoners who were locked up because they simply could not afford to pay the paltry fine. This was Dinesh. He was generous and kind to both family and strangers alike.
He lived a simple lifestyle ─ often seen in his light blue short-sleeved shirt and leather slippers. He disliked formality and formal clothes. He absolutely hated wearing a tie and wore shoes only when he had to for formal occasions.
Dinesh was also a very private person who actively worked on removing himself from the limelight. I know the publicity surrounding his death would make him "turn in his grave".
I have lost my youngest son who was a kind and gentle soul, one who touched the lives of many as we are discovering from the tributes that keep flowing in.
What else can I say except that I am proud of the person that he was and the life that he lived. Although life was robbed from him too early, I know his impact will be remembered for years to come.
These are the facts of Dinesh's death and Dinesh the person.
I would appeal to the media and the public, not to indulge in speculative untruths, aimed to tarnish the name of a good son and human being, who was the victim of a ruthless murder as it is the subject of an ongoing investigation. (Daily FT)