---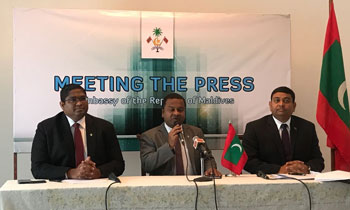 Maldivian Fisheries Minister Mohamed Shainee has said the FTA with China was based on pure commercial considerations and will not affect the neighbourly relations with Sri Lanka or India, the Doordarshan News reported yesterday.
It said the minister's comments came as the FTA had come under criticism with opposition alleging that it was rushed through the Parliament without time for deliberations.
Addressing a press conference in Colombo, the minister said that the FTA was under discussion since late 2014 and will benefit Maldives for its fisheries exports and investment in tourism sector.
Meanwhile, country's Attorney General Mohamed Anil sought to put to rest any rumours of postponing the Presidential elections saying it will be held next year between July and October.
He said that election commission is gearing up for the polls and steps are being taken for meeting recommendations of international community to ensure free and fair polls.
Earlier, the main opposition led by former President Mohamed Nasheed had expressed doubt over holding of elections as all the main opposition candidates have either been disqualified or exiled on various charges.
Mr. Nasheed is under exile after facing charges for abduction of a judge, Jumhoree party leader Yaseem Ibrahim has been disqualified for being age of 65 and several other opposition leaders have been jailed.