---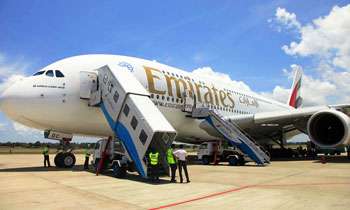 Emirates flight A-380,with 420 passengers and 22 crew members on board, flying from Dubai to Melbourne made an emergency landing at the Bandaranaike International Airport (BIA) this morning after a crew member fell ill, BIA Duty Officer said.
He said a 32-year-old crew member had suffered a stomachache which had forced the flight to make the emergency landing.
He was rushed to a private hospital in Negombo after being handed over to the airport medical center.
The duty officer said the flight took off from the BIA for Melbourne, Australia at 12.15 pm. (T.K.G. Kapila)