---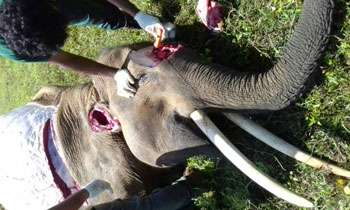 An eleven-year-old elephant that lived in Udawalawe National Park, had been shot dead in the Udawalawe Reservoir area yesterday morning, Rangers of the Department of Wild Life Conservation said.
They said that the elephant calf had two feet tusks (60 cm) and it was identified by its identity number of T 212.
It has been killed between two electric fences on Udawalawe-Thanamalwila Road. It was having a tussock in his trunk when it was killed.
It has been revealed in the postmortem examination that the elephant had died due to a bullet penetrated its head.
Care Taker of the Park R.A.D.D. Samaranayake said the dead elephant was not the elephant identified by Mugalan.
"There was no news that this elephant cub has caused damages to the general public. The elephant called Rambo is violent and has broken two electric fences and gone out of the fences," he said.
"This cub could have joined Rambo and has gone in search of food," he said.
The elephant calf had been roaming the areas of 5th Mile Post, 7th Mile Post, Mahaduwa, according to Rangers.
According to Veterinary Surgeon of the WLCD, it has been killed on December 01 after 1.30 a.m.
"As this region is used as grazing area by cattle farmers, cattle thieves illegally come to steal the animals.
"We suspect that the calf could have killed by them. The bullets from its body are not round pebbles and they are sharpened iron," he said.
The Department of Wild Life Conservation had requested the General Public to assist them to catch the killer.
"Any information about the incident, inform the nearest Police station," the Department said.(Ajithlal Shantha Udaya )