---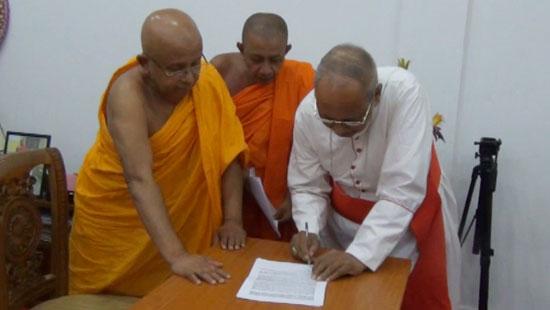 Chief prelates of the Malwatte and Asgiriya chapters and Colombo's Archbishop Malcolm Cardinal Ranjith today called on the government to refrain from entering into any agreement with any foreign country in a manner foreign armed forces could enter Sri Lanka and set up camps in the country jeopardizing the people's sovereignty upheld by the Constitution.
They also requested the government leaders to proscribe extremist organisations in order to bring in lasting peace in the country and implement one law in the country, without destabilizing it through harmful agreements with foreign countries, at a time when the country is in a mess.
They made this request after a discussion participated by the Mahanayake of the Asgiriya Chapter Most Ven. Warakagoda Sri Gnanarathana Thera, the Anunayakes of the Malwatte and Asgiriya Maha Viharayas and Archbishop of Colombo Malcolm Cardinal Ranjith at the Asgiriya Maha Viharaya today.
The said that the country's sovereignty was under threat due to party politics and the non-aligned policy of the country has been threatened by the agreements entered into by the present government with various other countries.
The Buddhist and Catholic leaders were of the view that Sri Lanka had become a target of various extremist organisations as a result of politicians acting in an opportunistic manner in order to protect their political power.
They added that they had information that the government was planning secretly and in an arrogant manner to enter into various agreements with foreign countries that would jeopardize the sovereignty of the country, and stressed that the government had no right to do so. (J.A.L.Jayasinghe)
Video by Nadeeka Dayabandra