---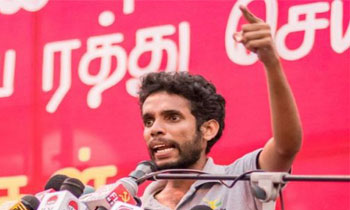 The Sri Lanka Medical Council's (SLMC) purported internal decision to register the SAITM graduates following a nine months clinical training was not an independent decision but a politically influenced one, Medical Faculty Students' Action Committee (MFSAC) Convener Ryan Jayalath said today.
Addressing a press conference he said the decision clearly showed that the SLMC had become a cat's paw of the present Government.
He said the recent SLMC view on the subject is contradictory to its previous stance.
"In 2015 the SLMC observation team on SAITM issuing a report revealed the shortcomings in the institute. However, all of a sudden in 2017 a new report has been released stating now everything is good. How could this be possible without any changes being made in SAITM or Neville Fernando Hospital," Jayalath questioned.
He charged that the government had appointed a pro government person as the SLMC head to get their job done.
Mr. Jayalath added that anti-SAITM forces would not hesitate to politically expose the government during the upcoming election campaign if it failed to fulfil the given promise on abolishing the SAITM. (Thilanka Karunarathna)