---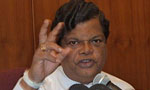 The joint opposition said today it would file action in the Supreme Court with regard to the budget proposal to set up an Independent Debt Office at the General Treasury.
MP Bandula Gunawardane said it was the Central Bank and not the Treasury which has the authority to monitor the country's debt control.
"The proposed debt office will be directly responsible for managing the country's domestic and foreign debt and that of the debt stock. This move will only aggravate our fiscal plight," he told a news conference.
The MP said the authority of the Central Bank to monitor bank transactions had been snatched through another proposal so as to hand it over to a 'National Payment Platform (NPP).
"These are the moves to privatise the Central Bank. We will write to the President and the Prime Minister about this matter while filing a case in Supreme Court," he said. (Lahiru Pothmulla)
Video by Sanjeewa