---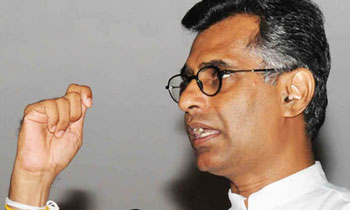 The issue of garbage management should be considered as an essential service immediately and a separate authority should be set up to streamline garbage management, Megapolis and Western Development Minister Patali Champika Ranawaka today said.
Addressing a news conference held at the ministry flanked by Deputy Minister Lasantha Alagiyawanna and ministry officials over the Meethotamulla mishap, Minister Ranawaka said local government (LG) bodies alone can't solve the garbage issue and therefore, it was vital to have a Central Garbage Management Authority to find solution to the issue.
He said people asked what role the Urban Development Authority (UDA) played when it comes to the issue of garbage and said it had none.
"The UDA has no authority over garbage collecting or dumping. It's the LG bodies including the urban councils, municipal councils and Pradeshiya Sabhas which are legally bound to manage garbage. However, given the specialty, the Western province has its own Waste Management Authority," he said.
He said the UDA plays a role when calling for tenders from international firms and companies to implement projects to manage waste in the country as LG bodies are not allowed to call for international tenders. (Lahiru Pothmulla)
Video by Danushka