---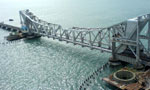 Indian BJP-led NDA government at the Centre was firm in its proposal to build a bridge across Palk Strait, connecting Dhanushkodi, the eastern tip of Rameswaram Island and Talaimannar in Sri Lanka, Union Minister of State for Road Transport, Highways and Shipping Pon Radhakrishnan said.
Talking to reporters in Ramanathapuram on Saturday, he said the project was at the preliminary stage but the government was firm in going ahead with the project and realise the dream of Mahakavi Bharathi. The Sri Lankan government is expected to give its nod for the project, Mr. Radhakrishnan said, replying to a question.
Once the project was executed, Danushkodi, which became a ghost town after the 1964 cyclonic storm, would flourish and the extension of a four-lane highway from Paramakudi to Rameswaram would be automatically implemented, he said.
After the execution of the project, this arid and backward district, which earned the dubious distinction of 'Thanni illa kaadu' (waterless jungle) and choicest destination for punishment postings would turn into one of the wealthiest districts in the country, he said.
Rejecting a suggestion that the Centre was delaying the construction of a memorial for the former President, A.P.J. Abdul Kalam at the burial site at Pei Karumbu, near here, he said the Centre had just received clearance from the State government and the memorial would emerge as one of the best in the country.
Replying to a question, Mr. Radhakrishnan said the NDA after coming to power at the Centre in May 2014, had secured the release of fishermen, whenever they were arrested by the Sri Lankan navy on charges of poaching. The External Affairs Ministry was taking steps to work out a lasting solution to the vexatious issue, he said. The question of retrieving Katchatheevu would be decided if the islet came in the way of working out a lasting solution to the fishermen issue, he said, answering a question.(The Hindu)