---
The cabinet has decided to give a big relief to electricity consumers to settle their March and April electricity bills as consumers have used power excessively in the two months and thereby received a higher bill than usual, Power, Energy and Transport Minister Mahinda Amaraweera said today.
Minister Amaraweera told the media that President Gotabaya Rajapaksa, Prime Minister Mahinda Rajapaksa and members of the cabinet widely spoke in support of the cabinet paper he submitted yesterday to grant a relief package to consumers as there were many complaints, inquiries and pleading on the increased electricity bill in March and April in the aftermath of the Covid-19 pandemic.
The cabinet decided today to grant a considerable relief to consumers for those two months. A team of top officials led by Secretary to President Dr. P.B.Jayasundara and Treasury Secretary S.R.Attygalle will decide an amount of tariff reduction and submit a report to the cabinet on next Wednesday. The cabinet will announce the relief package and the amount of tariff reduction at the next cabinet," Minister Amaraweera said.
Minister Amaraweera said it was understandable that the electricity bill in March and April rose sharply because people remained at home due to curfew. As a result, there was an excessive use of lights, TVs, electric ovens, cookers, fans, air conditioners and other domestic electrical appliances that contributed to the increase in electricity bill. Besides, it was the government that requested the public to remain at home. Therefore, the government is of the view that power consumers deserve some relief to pay their increased power bills.
Speaking to Daily Mirror, Minister Amaraweera said the government is not in a position to reduce the electricity bill, but assured that there would be no increase, even global fuel prices surge further.
The Minister requested consumers to settle their monthly electricity bill on time and added if they have paid excessively, it will be deducted from next month's bill.
However, the Ceylon Electricity Board will not discontinue power supply for the failure to settle electricity bills, he added. CEB Chairman Vijitha Herath also spoke. (Sandun A. Jayasekera)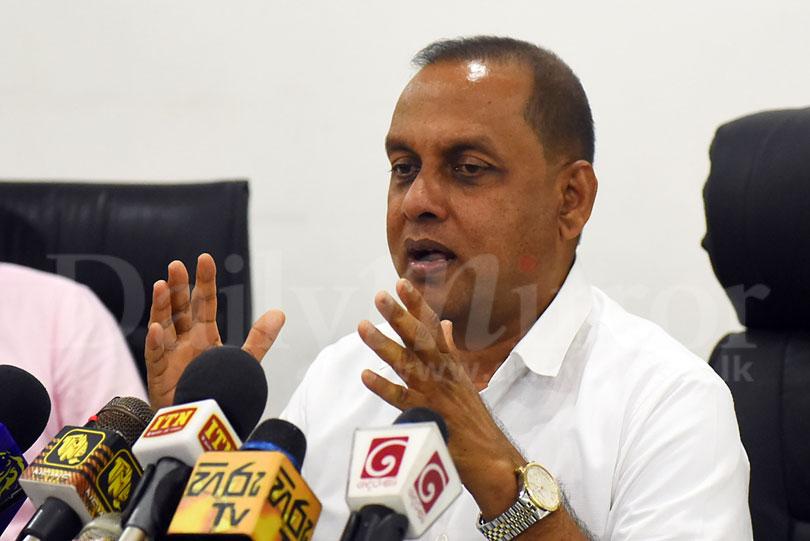 Pix by Nisal Baduge