---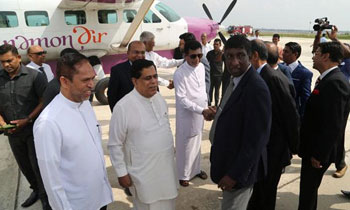 More domestic airports in the country would be developed to accommodate 60-seater aircraft, Civil Aviation and Transport Minister Nimal Siripala de Silva said while commencing civil aviation at the Batticaloa Domestic Airport today.
The airport after renovation was declared open by President Maithripala Sirisena on July 2016.
However, operations were deferred as the airport had to conform to international civil aviation requirements, which are now fulfilled, the Ministry said.
The Batticaloa airport, which has a 1,066 metre long and 46-metre wide runway, was installed with a new runway lighting system and a new passenger terminal building at a cost of Rs. 1,400 mn.
Minister De Silva said the civil aviation service in the country would be expanded so as to serve local and foreigners.
"The airport was renovated with the intention of promoting domestic airlines and also to expand local and foreign tourism in the Eastern Province," he said.
"I hope that we could be able to increase tourist attraction trough the domestic air service. Such airports are much needed in the country especially when the country is being developing economically and socially," he said.
The Ministry said the Government encouraged establishment of flying schools and related industries.
"The Government understands the need of having scheduled air services between domestic airports for sustained promotion of internal air transport and any airline, which commences scheduled flights to Batticaloa, would be given free landing and parking for a period three months from date of opening of the airport for civil use," the ministry said.
The Ministry said that currently Cinnamon Air was operating twice daily scheduled flights to Batticaloa and a few more airlines have indicated willingness to commence scheduled flights to Batticaloa airport.
The airport has a total land space of 145.2 hectares and the portion thereof amounting to 75.9 hectares has been retained by Sri Lanka Air Force (SLAF) for continued operation of its air base.
Separate access has been provided for civilians to enter the airport without the need of undergoing the strict security screening process.
The Civil Aviation Authority took over the Batticaloa Airport which had been used by the military for its operation for nearly three decades during the war.(By Darshana Sanjeewa)