---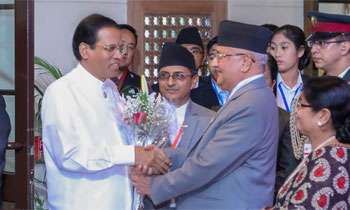 The Chairmanship of the next BIMSTEC Summit was handed over to Sri Lankan President Maithripala Sirisena by Prime Minister of Nepal, Sharma Oli today, The Himalayan reported today.
The fourth summit of Bay of Bengal Initiative for Multi-Sectoral Technical and Economic Cooperation (BIMSTEC) came to a close with the handing over of the Chairmanship to Sri Lanka.
Prime Minister Oli congratulated Sri Lanka for its assumption of the role as new host for BIMSTEC and extended thanks to the heads of governments of member countries for their participation and support in materialising the summit with success.