---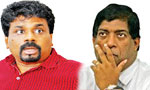 Janatha Vimukthi Peramuna (JVP) Leader and Chief Opposition Whip Anura Kumara Dissanayake yesterday challenged Finance Minister Ravi Karunanayake to sue him for the revelations Dissanayake made with regard to the Rs.1.2 million worth of controversial financial irregularity, allegedly taken place in the import of luxury vehicles involving Minister Karunanayake.
JVP Leader Anura Kumara Dissanayake was speaking at a meeting held yesterday themed 'Debt burden, tax burden and collapsing economy' at Ginigathhena.
"Since I was challenged by the Finance Minister, to speak against this illegal act outside Parliament before the public, I am now going to reveal everything I know about this, so that he can seek Court case against my allegations and later I can prove in courts, who really is guilty," he said.
"Among some nine hundred and ten luxury vehicles that were imported into the country, one hundred and thirty 130 vehicles were detained by the Customs for understating value, pending investigations. Minister of Finance Ravi Karunanayake was directly involved in releasing those vehicles at a time the investigations were going on into the case. He summoned the owners of the vehicles along with the Customs Officials, to whom he ordered to stop the investigations soon," Mr. Dissanayake said.
The JVP Leader claimed that Finance Minister had ordered the vehicle owners to pay only Rs.1.6 million instead of Rs.15 million as government import tax for each vehicle and get the vehicles released from the said inquiry.
According to him, if the Customs had calculated and collected taxes for the real value of vehicles, the Government could have earned Rs.1500 million (Rs.1.5 billion).
But since the Minister intervened, the Government garnered only Rs.300 million (Rs. 0.3 billion) as taxes from these imported vehicles.
He claimed that due to Finance Minister's involvement, a loss amounting to Rs. 1,200 million (Rs.1.2 billion) was caused to the Government. (Ranjith Rajapaksha)