---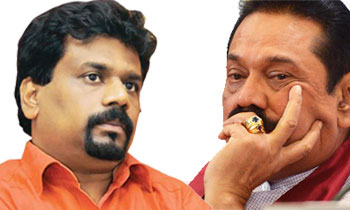 Janatha Vimukthi Peramuna (JVP) Leader and Chief Opposition Whip, Anura Kumara Dissanayake on Sunday challenged the former President Mahinda Rajapaksa to a public debate on the new constitution.
Mr. Dissanayake issued this challenge at a JVP propaganda meeting in Tangalle.
"They say the new constitution will divide the country and accuse the JVP of going all out to do so. MP Wimal Weerawansa is challenging me to a public debate. However I challenge his leader, former president Mahinda Rajapaksa to come to a public debate with me. Such a debate is appropriate as I am the leader of JVP and Mr. Rajapaksa is Weerawansa's leader," he said
Mr. Dissanayake said if Mr. Weerawansa wants to participate in the debate the JVP is ready to send someone who is suitable for such a debate.
"We will expose how these leaders who claim to be defenders of the nation use patriotism and steal public funds and how they get away from court cases," he said. (Yohan Perera)