---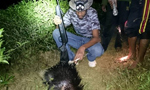 Six hunters, including the main suspect, were arrested today in Panwila, Kandy in connection with hunting wild animals in the Knuckles Conservation Forest, following uproar on social media over the incident.
Pictures of hunters with meat of various wild animals went viral on social media last week creating a massive uproar among the public.
According to initial reports one of the hunters is said to be an Estate Superintendant, and the rest are also said to be hailing from affluent backgrounds.
The hunters were accused of killing animals including deer and porcupines considered endangered animals in the Wildlife Conservation Act.
The preliminary investigations launched by the Wildlife Conservation Department officials and the Panwila Police have found that the hunting activities as pictured had taken place five years ago.
Following police investigations, two men had been arrested in St. John's Estate, Madolkele. One had escaped.
The main suspect and three others had surrendered to the Panwila Police with their lawyer.
Three firearms were also found in the possession of the hunters who are residents of Nawala and Panwila.
The suspects are in the ages of 20, 22, 28, 30, 33 and 42 were to be produced in the Theldeniya Magistrate's Court in due course, police said.
Wildlife Conservation Department Acting Director General W.K. Pathirathna said a group of Department officers were also involved in the investigations with the police.
He said the suspects had surrendered not to the police but to the Wildlife Department's Office in Randenigala where they were sent to the police later.
Meanwhile, sources said that some interested parties were interfering in the case and attempts are being made to sweep the case under the carpet. (Chamil Rupasinghe and Nadeeka Daya Bandara)
Video by Nadeeka Daya Bandara